The Creation of King Kobra
by and © Steve Sherman
From Jack Kirby Collector #22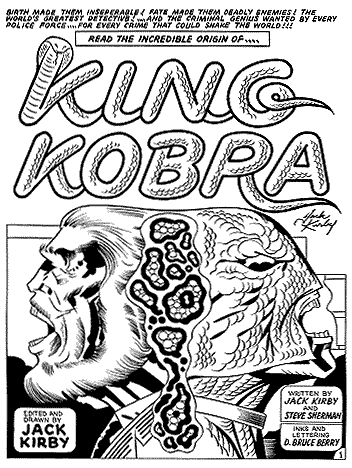 Jack's original splash page to King Kobra #1. Kobra ™ DC Comics, Inc.
Writing King Kobra was not only one of the best experiences of my life, it was also one of the worst. It marked the end of my "comic book" association with Jack Kirby; but it was interesting, because it did give me an insight into how masterful Jack could be in creating characters, and it taught me a few lessons that to this day come in handy when putting together ideas for presentation.
The genesis for King Kobra came about when publisher Carmine Infantino came to the conclusion first issues of comics sold really well, while the second and third issues tended to drop off, so he came up with the concept of First Issue Specials. These were one-shot titles, designed to grab readers (and collectors) since they were all #1s. Jack was not particularly happy about this - not that he found it difficult to come up with characters, but, by this point he still wanted to do a novel in comic book format. To just crank out books with different characters wasn't part of Jack's agenda.
It was at this point that I approached him about coming up with a book. Prior to this, Jack's agreement with DC stated that all material had to be written and drawn by Jack Kirby, but by now, Jack felt that it would be acceptable. Plus, as I recall, he was now doing work for other editors.
An idea had been going through my head. I was fascinated at the time by the Dr. Phibes movies starring Vincent Price. For some reason, I really thought that the idea of a villain who used different means of killing his opponents was really cool. Of course, this type of adventure goes back to the serials - but comics and serials do have that similar concept of recurring characters in outrageous situations.
When Mark Evanier and I were researching material for In The Days of the Mob, I had come across a book that had described the thugees of India. It is where we get the word "thugs."
I also was following one of Jack's story precepts that, in order to have a strong hero, you need a really strong villain. I didn't want to do a long underwear hero, mainly because there was no way I could come up with anything nearly as well as Jack. Instead I focused on a villain, figuring also that there were few comics that starred the bad guy. I needed to come up with a bad guy worth starring in his own book.
I should also mention that at the time, I had no idea there had been a movie entitled Curse of the Cobra Woman. Had I been aware of it, I probably would have borrowed some things from it. Anyway, combining the thugs with Dr. Phibes, I came up with the image of a cobra. Since it was to be a Jack Kirby comic, I changed the "c" to a "k." Obviously, what goes with "Kobra"? Well, if he wants to rule the word, "King."
I then needed a hero, of course, to battle the King. Who better than a Los Angeles police detective?! Somehow, I wanted to pit an ordinary lawman against this ultra science-fiction villain. I suppose I was being too "cinema" and not "comic booky" enough. At any rate, I typed the whole mess up, beginning with a splash page of a giant robot smashing through a window of a crowded restaurant. Jack of course was busy turning out the one-shot specials (I think "Atlas") and was leaving it to me to work the book out so that hopefully all he had to do was pencil it.
Upon taking it over to Jack, he read it, looked at me, and said, "Boy, does this stink." Actually he liked the title and the character of King Kobra. What he didn't see was the hook that would tie the whole thing together. I don't think he appreciated the humorous touches I had put in either. I was somehow trying to go for a cross between a Marvel comic and The Spirit.
Sitting at Jack's kitchen table, his initial thought was to cut each of us a piece of chocolate cake-something he was still allowed to eat back then. As we talked, Jack lit up a cigar-another thing he was still allowed to have. Finally, after a few minutes Jack looked at me and said, "The Corsican Brothers." "What?" said I. "The Corsican Brothers by Dumas. Identical twins, one good, one bad," said Jack. And with that he had not only tied the whole series together but had given the characters a sense of depth that I had missed - and it worked. Now we had a story that really had punch to it.
The more we discussed it, the better it became. By the time I left that evening we had plotted out not only the first book, but another as well, completely forgetting that this was a one-shot book.
By the time I returned the following week with new written pages, Jack had already begun penciling the book. It was really exciting to see the whole thing suddenly come to life on the penciled pages. Jack had already broken the story down into panels.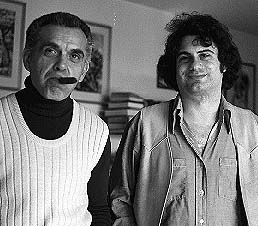 Jack with Steve Sherman, circa 1975.
It seemed as if maybe we were finally on the road to what Jack had originally envisioned when he moved to California - starting a series of books that he didn't have to write, and perhaps in the future, not draw.
About six weeks later I was out to Jack's house to pick up the letters for the Kamandi book. I'd like to say that I noticed there was something odd about Jack and Roz's demeanor, but I didn't. Jack told me that he had received the King Kobra book. I was excited to see it and as soon as I opened it my heart sank.
Someone else had been given credit for writing it and the panels had been _re-pasted in a different order. "What happened"? I asked Jack. Apparently DC needed to make some changes and they decided to make them in New York. Jack didn't seem too happy about the whole thing. Then he dropped the bombshell: "I'm leaving DC and going back to Marvel," he said. I was more than a little stunned. "I don't think that there is much more that I can do at DC," he said. It was understandable.
Jack had hoped to try to push the envelope at DC, and in some ways he had, but it seemed inevitable that if he continued there he would soon find himself in the same position he had been in when he had left Marvel a few years before.
For me it was a sobering experience. If they could treat Jack Kirby this way, what kind of treatment could I expect? Over the years King Kobra has surfaced in various DC titles which is kind of gratifying to see. Looking back there are some things I would do differently with the characters, but in general, I'd say that it was a pretty good shot. It would have been fun continuing creating characters with Jack. It was always amazing to toss him a "what if" question and hear him come up with the most spectacular ideas and stories.
(For a look at Steve Sherman's original outline and the script that evolved after discussions with Jack, as well as more of the unaltered art from Kobra #1, be sure to check out TJKC #22!)

Sign up here
to receive periodic updates about what's going on in the world of TwoMorrows Publishing.

Click here to download our new Fall-Winter catalog (2mb PDF file)