You've Heard of the Book Titled "How the Irish Saved Civilization." Now read - How Marv Wolfman and Co. Saved (a Bit of) The Golden Age
by Roy Thomas
From Alter Ego Vol. 3 #2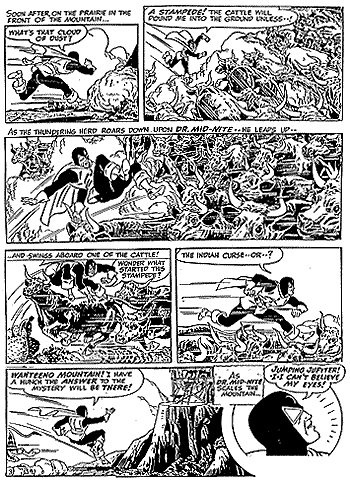 This "Written Off" page of a 1940s Dr. Mid-Nite story, most likely by Arthur Peddy (pencils) and Bernard Sachs (inks), is unusual in having four tiers rather than three, but was rescued during the episode recounted here. Only one piece at the bottom right was missing from the photocopies sent to A/E by Mark Hanerfeld. Dr. Mid-Nite ©1999 DC Comics Inc.
We can't get around it. We have to begin with what seems like an unabashed plug. And maybe it is:
In the works is a new book from TwoMorrows Publishing: The All-Star Companion, compiled by Ye Editor with the help of several other prominent fans of the Justice Society of America.
One of the highlights of that volume will be more than a dozen pages' worth of art panels from a never-published JSA story written and drawn circa 1946: "The Will of William Wilson," with script by JSA co-creator Gardner Fox, and art by Martin Naydel, Jon Chester Kozlak, Stan Aschmeier, and Paul Reinman.
The story of how so many pages of this story - and literally hundreds of other pages of Golden and even Silver Age art - came to be salvaged and preserved is virtually a comic book epic in and of itself.
It's a story that deserves telling.
Circa 1967-68, a young New York fan named Marv Wolfman was just edging into the comic book field. Such scripting triumphs as Tomb of Dracula and The New Teen Titans still lay several years in his future. In the late '60s he worked for a couple of summers as an "intern" (gopher) at DC Comics, performing whatever odd jobs needed doing around the offices.
One of which was to cut up original comic book artwork to prepare it for incineration.
For, believe it or not: Until the early 1970s, DC (and doubtless other companies, as well) routinely burned all original art once it had been printed, presumably so that no unscrupulous artist or writer (or editor!) could sell entire covers and stories to some Godless foreign land which might re-publish same without paying for the privilege. Also incinerated on such occasions was unpublished artwork, which was often stamped "WRITTEN OFF": i.e., DC had decided not to print it, either because a feature had been canceled or for some other reason.
Actually, we need to back up a little, because the 1967ish act of rescue heralded above wasn't the first time Marv Wolfman, among others, had become engaged in saving original artwork from the flames of perdition.
A year or two earlier, Marv tells us: "Several fans and I were on one of DC's regular Thursday afternoon tours when production manager Sol Harrison came wheeling a huge postal cart past us, filled with 'Written Off' artwork, mostly from the '40s. He was bringing the pages to the building's incinerator to destroy them; obviously, the small office DC had at the time was running out of space and they had to clear away room.
"Sol asked the fans on the tour if we wanted any of the art. As fans, we all knew artwork was important, even if the professionals didn't. We all dove into the postal cart like Uncle Scrooge into his money bin and took everything we could, then scurried downstairs and traded in the building's lobby.
"I had so many pages by the end of the day that I had to take a cab home from Manhattan to Flushing, Queens, which was very expensive for a kid. I don't remember if every page was stamped "WRITTEN OFF," but most were.
"The pages we got then were full pages, and uncut. I realized early on that I had gotten almost all the pages of a 12-page never-published Siegel and Shuster Superman story and managed to trade for the other pages. I still have that story and it has never been printed. The pages have "WRITTEN OFF" stamped on them, as well as editing notes which were never corrected in the story. It has an incredibly good splash page with a full-page Superman shot on it.
"Later, when I went to work for DC, I went through their library to try to trace the time period of that story. As best I could figure out, it must have been done about 1942. In 1947, I believe, the story was rewritten as a ten-page story and then redrawn by Wayne Boring and was published. Why the Siegel and Shuster version wasn't used, I don't know.
"It is called 'Too Many Heroes!'"
CUT TO: The 1967-68 period, when Marv was an "intern" at DC.
Part of his job, as directed by production manager Harrison, was to slice pages of artwork into several pieces - diagonally, from an upper corner to the lower opposite one - so that they would fit more easily into the incinerator chute. From time to time, however, Harrison would allow him to keep a small amount of artwork - as long as it was properly sliced first with the large paper-cutter, so that Marv would have only pieces of pages and panels, not whole pages, let alone whole stories.
Marv readily admits that, as soon as Sol left the room on other business, he immediately commenced to slice the pages he wanted to keep in a more creative way - horizontally - in between what were usually three rows (or "tiers") of panels, rather than diagonally. That way, no panels were mutilated. If one just happened to save all three tiers on a normal page, one could eventually tape them together again, and have a complete page.
Marv says that Harrison returned once or twice, noticed him cutting the pages the "wrong" way and insisted that he got back to doing it the "right" way.
Naturally, as soon as he was left unattended, Marv went back to his preferred method. And more power to him.
"My hope," Marv says, "was to preserve as much of this art as possible. Many of the 1940s pages [that exist today] exist only because they were rescued from incineration."
Most of the artwork that passed through his hands, alas, wound up being destroyed. Among the treasures he specifically recalls having to consign to the flames were pages of Alex Toth art, a Neal Adams Deadman story, and the Gil Kane-drawn origin of the Silver Age Atom from Showcase #34. (Though, curiously, the second story in that landmark issue - the first in which he appears in costume - somehow survived intact, not even sliced into thirds!)
Over the long haul, Marv estimates that he managed to depart with perhaps five hundred pages' worth of original art - some complete pages, many individual tiers.
"In terms of what I still have," Marv says, "a quick look shows many 'Written Off' pages from Flash Comics (up to issue #110, which shows how far ahead they were working), Green Lantern, All-American, Comics Cavalcade, and assorted other strips."
(The significance of the "Flash #110" reference, of course, is that Flash Comics was discontinued in 1949 after issue #104.)
Later, at a meeting in Queens of the comics fan group to which he belonged - T.I.S.O.S., or The Illegitimate Sons of Superman - Marv let the other members, including future comics writer/editor Len Wein and other future pros, take home 25 pages each; he kept a mere two hundred or so for himself.
One of the real prizes of Wolfman's haul consisted of more than a dozen pages' worth of artwork (both complete pages and parts of pages) of what would turn out to be a never-printed 1946 Justice Society story, "The Will of William Wilson" - all cut up into nice horizontal tiers.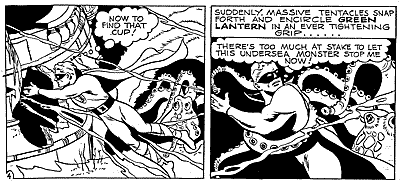 Get a grip! Two Green Lantern panels by Paul Reinman from the long-lost Justice Society story. They and several more of GL - plus another dozen pages' worth of this never-printed JSA tale - are a highlight of TwoMorrows' forthcoming All-Star Companion, edited by Roy Thomas.
Green Lantern ©1999 DC Comics Inc.
Still extant from this tale, so far as we can determine today, were: three tiers of Green Lantern drawn by Paul Reinman; four Atom tiers by Jon Chester Kozlak; at least one Dr. Mid-Nite tier by Stan Aschmeier; fourteen Flash tiers by Martin Naydel (out of a possible seventeen, counting the missing splash as only one tier); and fifteen (out of a possible eighteen) tiers of the concluding JSA chapter!
Apparently, no splash panels (which would have consisted of 2/3 of a page for each of the six solo chapters) were preserved. No doubt those had been too large for Marv to avoid slicing, and he hadn't saved any artwork he'd sliced in two. And nothing whatsoever of the first (JSA) chapter or of the Hawkman and Johnny Thunder segments has ever turned up - though they were probably drawn.
Not that everyone in T.I.S.O.S. instantly recognized these pages as part of an unpublished issue of All-Star Comics. All but the JSA pages would have looked like parts of mere solo adventures of Flash, Green Lantern, Dr. Mid-Nite, and The Atom from DC's monthly anthologies Flash and All-American, or perhaps from the giant-size bimonthly Comic Cavalcade. And anyway, some of the group, Marv included, were far more interested in other features than in the JSA.
But one T.I.S.O.S. member - Mark Hanerfeld, later an assistant editor at DC and the original model for Abel, host of the House of Secrets comic - seems to have recognized at once that much of the artwork belonged to the same JSA story.
And he wanted it all!
Mark promptly traded with his fellow Illegitimates to get the rest of the All-Star tiers, just as Marv had earlier traded in order to obtain the entire 1942 Superman story. For some reason, however, Mark seems never to have had any Dr. Mid-Nite tiers; that turned up later from other hands.
Mark hung on to the JSA art for years before selling it to Ye Writer/Editor in the 1980s. In 1985 the first page of the JSA finale, forty years late but in full color, was finally printed in the one-shot The Last Days of the Justice Society of America.
Thus, at least a baker's-dozen pages of an otherwise "lost" All-Star - and of some five hundred other Golden and Silver Age DC pages floating around today in one private collection or another - owe their survival to those heady days in the late 1960s when Marv Wolfman and Mark Hanerfeld became the super-heroes who rescued much of a "lost" adventure of the Justice Society.
But just think: If DC's incinerator opening had been a bit larger, so those pages hadn't needed to be sliced up in order to slide down the chute, all five hundred of them might well have been forever and irretrievably lost like their brothers!
For a full printing of all surviving art from the unpublished "The Will of William Wilson" - for the first time in its more than half a century of existence - see The All-Star Companion, coming next year.
President Harry S Truman was fond of saying: "There's nothing new under the sun, except the history you don't know yet."
I used to wonder what my fellow Missourian meant by that.
Not any longer.

Sign up here
to receive periodic updates about what's going on in the world of TwoMorrows Publishing.

Click here to download our new Fall-Winter catalog (2mb PDF file)
Howard Keltner's Golden Age Comic Books Index is the premier references for Golden Age comics! Bob Klein worked with Howard to make this edition available, just before Howard's untimely death in 1998. Howard's widow has graciously given us permission to give the index away for free for all to enjoy!
Click here
to view! (1.5 MB file.
Adobe Reader
required.)